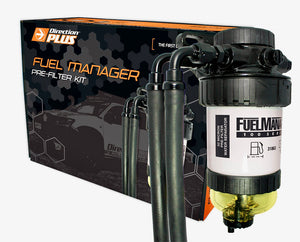 DIRECTION PLUS FUEL MANAGER KIT Toyota Landcruiser 70 Series 1VD-FTV 2012-17 Dual battery & ARB compressor, protecting its engine against costly injector failure.
FUEL MANAGER: HOW IT WORKS
When you install the Direction Plus™ Fuel Manager pre-filter kit between the fuel tank and the O.E.M fuel filter, Fuel Manager will remove most of the contamination by particles and water present in the diesel fuel.
HIGH LEVEL PROTECTION
As a result, the O.E.M fuel filter will do the final and finer filtration. Therefore, this ensures you are maximising the protection of your diesel fuel system.