TAKE A LOOK BELOW AT SOME OF OUR BUILDS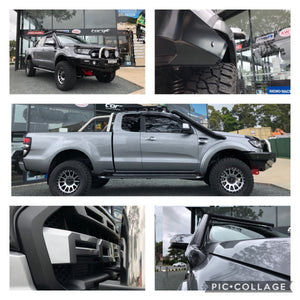 Al's Tough Extra Cab Ranger
This ute is very Easy on the eyes with some tastefull colour coded parts to match the body. you might notice no rear flares but he was getting a tray the next week so no need.
- Ironman 4x4 Proguard Bullbar & Recovery points
- Ironman 4x4 Winch
- Wheel and tyre package
- Wedgetail Roof platform and brace kit
- Stainless snorkel
- EGR colour coded flares
- Ironman 4x4 Foam Cell Pro Lift kit with colour coded springs
- Raptor style Ford Grille With colour coded lettering
- Great white driving lights
Alex's On-Time Work Ute
This one was Fun and enjoyable Build, Alex bought this one straight from the Showroom Floor to our workshop.
- Ironman 4x4 Bullbar, recovery Points, Square 5x7 Spotties and Winch.
- Ironman 4x4 Snorkel.
- Method Race wheels Wrapped In TOYO Rubber.
- Redarc 160ah Dual battery Setup with Inverter and Custom solar Mount (Sunken to make the roof racks still operational)
- Ironman 4x4 GVM upgrade with Foam Cell Pro shocks.
- Airbag Man complete On Board Air Control system.
- Rhino Rack track mount Cab racks with rear Platform.
- Trig Point Full custom Service Body.
- GME XRS radio
- Cell-Fi go range Extender
- Mirror replacement Reverse camera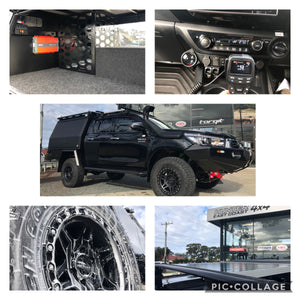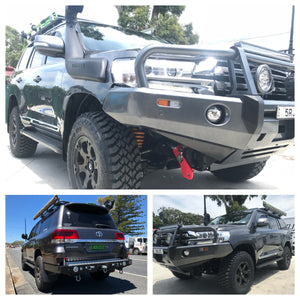 Jono's Enhance 200 Series
Jono came to us with no previous 4 wheel driving experience but a passion to start by first kitting his new Sahara out.
Giving us the freedom to design the build, we took into account his wishlist for the vehicle but were also considerate of how naturally capable the 200 series is in its own right.
Jono's build included;
- Ironman 4x4 premium colour coded bullbar +winch
- Ironman 4x4 recovery points
- Outback Accessories rear wheel carrier + jerry
- Ironman 4x4 lights and snorkel
- Ironman 4x4 roof rack and awning + accesories
- Ironman foam cell pro suspension
- UHF + Fuel wheels
Pottsy's Ranger Super Tourer
Pottsy having recently sold his house wanted to take off touring Australia. He came to us to buy a 4 wheel drive and have us kit it out. Pottsy was a legend to work with and his extensive list includes;
- EGR Canopy, flares
- Ironman 4x4 bullbar, winch, lights, side step + rail, underbody protection and rear protection tow bar
- Safari Armax snorkel
-Torqit performance chip, exhaust + pedal
- Ironman 4x4 draws, fridge + water tank
- Ironman 4x4 foam cell suspension
- Ironman 4x4 roof rack on Rhino tracks with Rhino batwing
- Redarc DC-DC dual battery set up
- Polaris in dash entertainment system with rear camera
- Fuel separator + catch can
- Outback interiors roof console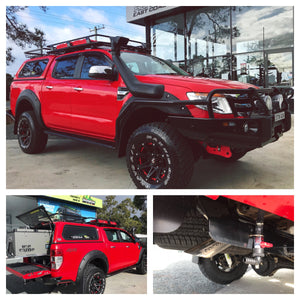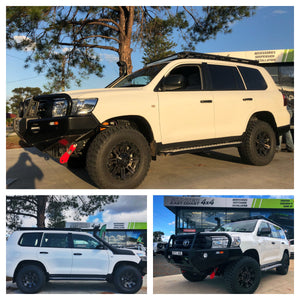 Jefro's 200 Series
Jefro came with a clear vision for his new 200 series coming out of a highly modified Hilux ute.
Jeff has done alot of touring including a year long loop of Australia. His mods include;
- Rhino Rack backbone and platform system
- Ironman foam cell pro 3 inch lift with diff drop and UCA's
- Ironman 4x4 premium bullbar with recovery points
- Kaymar rear protection bar
- Side sliders
- Wheels + tyres
Teddy's Patrol
Ted came to us looking for an Alu Cab rooftop tent and came away with following;
- Alu Cab rooftop tent on Rhino Rack cross bars
- Alu Cab 270 shadow awning
- Monster fuel wheels wrapped in Mickey Thompson rubber
- Ironman 4x4 ensuite change room
- Ironman 4x4 foam cell pro suspension with heavy duty springs + airbags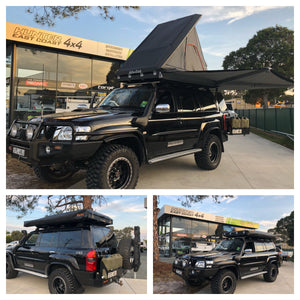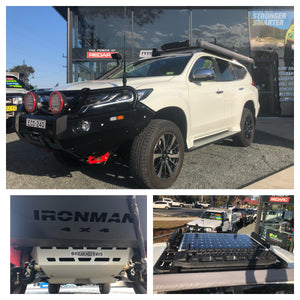 Chris and Julie's Pajero Sport
We had dealt with Chris and Julie on their previous patrol wagon and they thrououghly enjoyed their eexpeirence with us and were soon back to kit out their ultimate tourer. 
- Ironman Commercial Deluxe Bullbar with recovery points & Winch
- Hayman Reese 3T tow bar
- Safari Snorkel
- Underbonnet DC-DC Redarc battery charger
- Rhino Rack Platfrom with accessories
- Brown Davis Underboddy Protection
- On board ARB air compressor (hidden in the rear wheel well)
Billy's RFDS Outback Car Trek 200 Series
As you may have read each year we support the Royal Flying Doctor Service charity event 'The Outback Car Trek' raising money and awareness for the great work they do.
The Trek involves treacherous cross country driving stretching thousands of Km's each trip. Bil is the organiser of this great event and came to use to specially kit his 200 series for the 2020 Trek and beyond. His list includes;
- Ironman 4x4 bullbar, lights, snorkel
- GVM upgrade
- Fuel separator + catch can
- Outback interiors roof console + drawer system
- Polaris in dash GPS unit with HEMA maps
- Cell-Fi reception booster
- GME XRS UHF
- Rhino Rack backbone with platform + awning
- Rear facing flashing lights
- Outback Accesories rear wheel carrier
- MSA drop slide